Paintings by Ken Boe, Feb. 3 – 24, 2022, Closing reception & Artist Talk Feb. 24, 2022, 4–6pm
Union Gallery, Cochise College Douglas Campus, Douglas AZ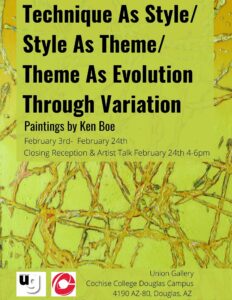 You may visit my exhibition at The Union Gallery through next Thursday the 24th. Union Gallery is free and open to the public at the Student Union (Building #500) on the beautiful campus of Cochise College Douglas. In this show I look back on how messing around with your own techniques over time evolves into endless possibilities for creating original art of original style and intent.
Free handout on site, and I'll give a talk at 5:15 for the Closing Reception, 4-6pm Thursday Feb 24th. Refreshments served. Normal Gallery Hours are 8am-7pm weekdays, and 10am-7pm weekends.
"Excited to share that for the month of February we have dynamic paintings by local artist Ken Boe in the Union Gallery on the Douglas campus! Come by on February 24th from 4-6pm for a closing reception and a talk from the artist."
Curator Ash Dahlke