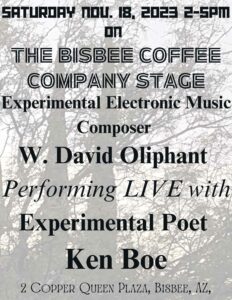 W. David Oliphant will be responding to my spoken word inflections, meanings, and cadences with his building sound language where every key on his keyboards are differently constructed phonemes from which he'll compose live throughout the readings, and in-between the readings. I'll be reading and vocalizing the full lyric sequence poems from the Tatterdemalion Daydream manuscript as never heard before, plus a series of other works, and many newer poems.
I'm also in a couple group art shows this weekend:
The Re-Make Show at Central School Project in old Bisbee, with my hyper-object abstract landscape painting of found materials, including a pine resin crayon encaustic medium from crayons recycled from the restaurants of Yellowstone National Park, found desert-weathered plywood, old pull-top cans from a local field from years of someone's consistent habit of beer drinking.
Reception Friday night 11/17/23 6-9pm.
Open weekends 11-4 through December 3rd.
43 Howell Ave, Bisbee, AZ 85603
(I'll also have a small piece in the Erotic Art Show at The Bisbee Quarry in Brewery Gulch Saturday the 18th beginning at 7pm. A ticketed burlesque show follows.)